Subscribe: Apple Podcasts | Android | Google Podcasts | Spotify | RSS
If you're like most entrepreneurs, the thought of writing long blog posts every week keeps you lying awake at night. Here's some good news – you can still have an impactful social media strategy by creating small posts called microcontent.
What is microcontent?
Microcontent is any small chunk of information, usually communicating one concept or idea, that can stand on its own. Think of an entire blog post condensed down into one or two paragraphs.
The idea behind using microcontent to boost your social media impact is that you can tell your brand's story is bite-sized pieces. The average consumer's attention span is only eight seconds, so using microcontent is a great way to convey your ideas quickly.
Microcontent platforms
Microcontent can be used in a variety of ways including social media posts, personal messages, emails, images, and live videos. You can create microcontent on any social media platform but some platforms are tailor-made for this type of content.
Platforms that are well-suited for microcontent:
Twitter: Twitter is probably the original and most widely-used microcontent platform. Your posts are limited to 280 characters or around 45 words. So you have to get right to the point.
Instagram: Instagram has become an awesome medium for microcontent. You can post a picture, include a short description, and convey an idea simply and quickly.
Snapchat: Snapchat is another platform created solely for microcontent. Snap a photo, record a short video, share it, and then in 24 hours, it's gone.
Examples of microcontent
Here are a few ways you can use microcontent to boost your social media impact:
Micro posts
These are one of the most common types of microcontent. Micro posts are very short blog posts, maybe just a paragraph or two, and usually posted as the description of an image on Instagram. You can do a whole series of these and create a lot of great content in easily-digestible chunks.
Infographics
Infographics have been around a long time and they're still one of the most shared types of content on social media. Infographics are a great way to simplify and convey complex ideas.
Memes
Who doesn't love a good meme? They're fun, funny, and easily shareable. Memes can help you communicate an idea using visual humor.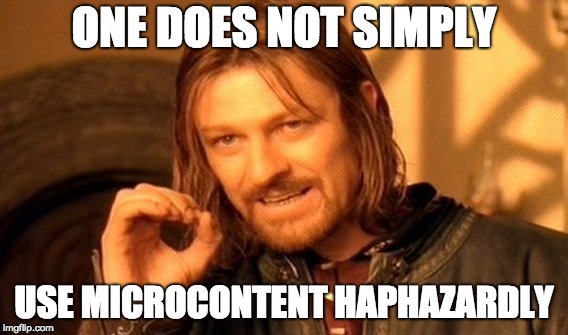 Image quotes
Image quotes are just that, an image with a quote layered on top. They are similar to memes but are usually meant to be inspirational instead of funny.
Quick videos
Video is great for microcontent because most people don't have the attention span to sit through long videos. Try to keep your videos to a minute or less.
Instagram, Facebook, or Snapchat Stories
The 'stories' features from the big social platforms were introduced to address our short attention spans. Stories are perfect for microcontent. You can get as creative as you like.
Short emails
Think about the last few emails you read. How long were they? How much time did you spend reading them? Did you get to the end? Most of us are too busy to read long emails, so using microcontent as an email strategy makes perfect sense. This approach is especially useful for drip campaigns where you're sending out a series of emails.
The impact of microcontent
Your audience can digest it quickly. Most people are seeing your social media posts on mobile devices and so spend very little time on any individual item. Microcontent makes it easy for them to read or watch quickly.
You are easier to understand. Microcontent is clear, simple, and focused communication. You are usually conveying one distinct idea so it's easy for your audience to digest and understand that one idea.
People will learn your whole story. Telling your brand's story in small chunks makes it easier for your audience to grasp who you are and what you're all about. Over time, they get to learn your whole story, as opposed to reading one long post or watching a lengthy video.
You can post quickly, and more often. One of the biggest benefits of including microcontent in your social media strategy is being able to create content quickly and more often. You only need to write a few sentences or record a minute or two of video, so you can crank out more posts and stay on top of your social media game.
You get more shares. Shorter content tends to get shared more often, so having plenty of microcontent available means more people will share your stuff. This is a great way to build brand awareness.
Your brand will stand out. You can use microcontent in a lot of different ways, there's really no right or wrong way to do it, but you get to be as creative as you like. And a creative microcontent strategy will allow your brand to stand out from your competitors because you'll be creating a different kind of content.
The microcontent ONLY strategy
You can use microcontent as your entire content strategy. I've seen some brands do this very well. I've mentioned Brown Bear Bakery who's built their entire brand on social media using Instagram. Their microcontent is amazing photos of baked goods along with short descriptions. This strategy works amazingly well for them.
If you choose to go this route, keep in mind that you are building your brand on someone else's platform.
You don't own the medium, and they can change things any time they like. They may choose to stop showing your posts to your followers like Facebook has done with their business pages. They can decide to make their platform pay to play, again as Facebook has done.
Just know that you're putting all your eggs in one basket with this kind of strategy.
My suggestion is to use microcontent to supplement your overall content marketing strategy. Use multiple channels to create and share your content. For example, write a blog on your own website and also create mini posts to share on Instagram or Twitter.
Are you using microcontent to boost your social media impact? What have you tried? How is it working out? Share a comment below or post your thoughts in our Facebook group.